No one wants to think about it but Christmas is 170 days away. Doesn't sound like very long when you think of it that way does it? I posted on the 4th of July how many days until Christmas there was and the responses were pretty much the same, "Already"? Yes, already.
Having a large family means that Christmas can be very stressful at our house if we let it be but through the years I've learned a few tricks and thought I would share them with you.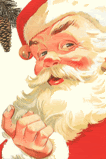 1. Make a list of all the people you have to buy for and then a separate list for all the people you want to buy for. It is a good idea to keep this list with you all the time. I personally have mine stored on my iphone.
2. Take advantage of off season sales and clearance racks. I can't post what I have bought and have put up because my children and my spouse read my blog, lol. I buy things for the kids at least 1 size, if not 2 sizes bigger than they currently are and most children don't care if they have on last seasons styles since they are very similar. I also pick up things that look like they would make a good gift in general or if it is a really good deal. I also pick up misc. craft items when they are on clearance and on sale. Old Navy is a great place to take advantage of sales and clearance as is JC Penny and Target.
3. Freebies! Yes, I said freebies. There are all kinds of freebie sites on the web giving away a host of various things that can be put up and then placed into baskets of interest for gifts.
4. Blog Giveaways. I am totally addicted to these things and have won some awesome stuff. They are a little time consuming and you should keep track of the ones you have already entered. I only utilize 2 sites for blog give aways but there are several. Right now there are 12 gifts put up for Christmas and I only started doing the blog giveaways in May. This does not include the things I have already given to our kids or mother in law or my nieces or that we have used or eaten here at the house.
5.Regifting-some will think this is not a very nice thing to do but I think it's a great thing to do. for example, I got something at my bridal shower that could not be returned and was cute, just not my thing. I put this up in the top of my closet and will be regifting it at Christmas to someone who it is their thing. My rules for regifiting: It must be new, meaning never used and it must not go back to the person who gave it to you.
I hope this gives you a little help in terms of preparing for the holidays. With 6 kids we have to look for areas to save all the time.
Merry Christmas!